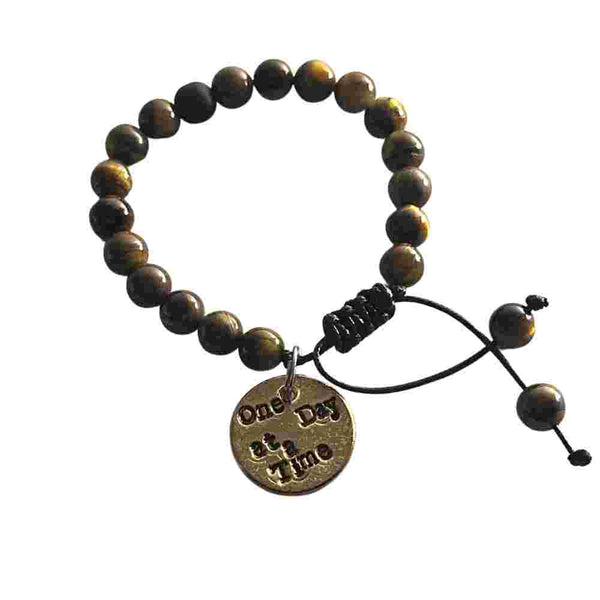 God grant me the serenity to accept the things I cannot change, courage to change the things I can, and the wisdom to know the difference.
 Somebody in your life needs to receive this message today.
This is a perfect gift to help someone take things one day at a time. Stay with them at every moment by giving them something that will be with them wherever they go. This will help them stay strong and remind them that they are loved.
HANDCRAFTED UNIQUE - Handcrafted with love makes a unique personal gift for that special someone with meaning. Give the gift of confidence and inner strength with a Tiger's Eye bracelet. 
*PACKAGE AND SIZE* Comes in an envelope. No wrapping is needed. The charms is 22MM wide (about the size of a quarter.) The Tiger's Eye Bracelet is adjustable. Made in USA. 
TIGER EYE - Tigers Eye brings out self-confidence and inner strength. Perfect for anyone going through tough times or needing a bit of confidence.
STRENGTH - Great gift of strength for anyone struggling with addiction, loss, trauma, illness, or recovery.  BRONZE - Each charm is made of bronze and is 22 MM in diameter (roughly the size of a quarter. Bronze is made of Tin and copper. Tin promotes prosperity and spiritual growth. But it also enhances your emotional and spiritual qualities. Copper improves blood circulation and gives you courage. It also improves and broadens your awareness. Together they create a powerful energetic alloy.